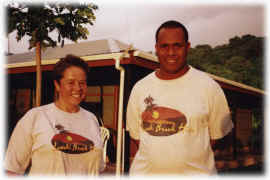 Semisi's (friends also call him 'Sam') family lives in Naceva, a village on the south coast of Beqa. He went to school first on the island and later on Viti Levu. Entering the army, he spent several months as UN soldier in Lebanon.
It was in Suva in 1985 when Christine met Sam the first time. They kept in touch for a longer period and met a second time in Israel. After their marriage in 1991 they lived in Switzerland in her family's home until their immigration in 1998/99. Before coming to Lawaki Beach they lived in a house in Pacific Harbour near Navua.
As land tenure in Fiji is difficult for private persons and especially for foreigners, it took a long time to find an agreement with the clan. Lawaki Beach is situated on land traditionally belonging to both the Naceva and Naiseuseu. Sam has - like every Fijian, by right of birth - inherited rights to use his kinship land. The Tawake family is belonging to the village of Naceva but can only make decisions in accordance with the other families of the village.
Christine & Sam have the intention to live as self-suppliers. Only the necessary buildings shall be constructed. Activities which require special equipments, shall not be offered.
That's how Lawaki Beach remains in its natural beauty.